Time is sneaking away...really fast...
Clara is 1 month old!
My sister's pregnancy seemed to be like a fast one...
HAHA...from having morning sickness to being a glutton and Popped!
Smiling baby....
Mummy can't stop looking at her...
my sister is actually a very cool woman...
she does not express her feelings or show her emotions that much....
but after having her baby...she's kind of different now....
I think the baby is her life now...
happy because of her flesh and blood....
Mummy told us daddy did not do that to us when we were young!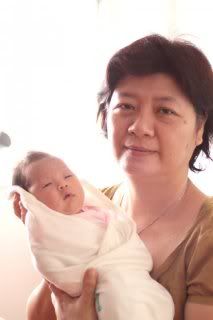 This grandmother is like a gan chiong spider whenever she sees her grandchild...
This is the first time for my man to carry a 1 month old baby...
he does not carry babies!
She was deeply asleep although we passed her as a baton continuously...HEHEHE
all the other kids...
Our posing queen who loves Hi 5!
Lucas boy~~
looking at Clara curiously....
the funny UU!
Pointing at my man....
And we took the group photos...
but it's very small...HEHEHE...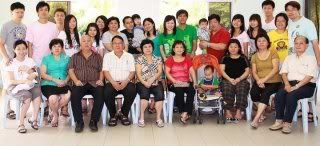 and our family portrait..HAHAHA
there will be another baby shower celebration on this sunday!
HAHA! twice!
will update again!!