After the big Hoo Haa and the long wait...
we finally got our keys!!
you may be thinking that the wait for this house is only 5 months...
but the total years we've been trying to get a house is definitely longer
than the duration of Japanese occupation!!
and so this is the place... =)
the door to our happiness!
The seller turned up for completion..
because we know magic! HAHA! OK..just kidding..
Haiz..long story..but we really tried our very best for this to happen =)
But hey! here's our shiny keys!!!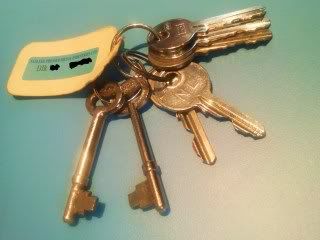 Looking forward to my home sweet home...